Ken Lucas - Owner of SnowAffair/TeleFair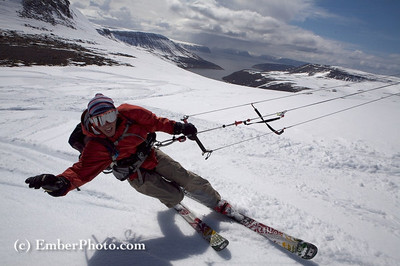 His passion for telemark skiing and snowkiting is second to none. Ken has telemark skied around the world for twenty years and snowkited for the last ten. Competing in all sorts of telemark and snowkite events has given him a keen insight to improving technique. He started TeleFair to share his passion and help people confidently ski places you only dream of. "SnowAffair's no-nonsense approach to riding makes it easy for you to improve quickly and have fun exploring the mountain", he says. His credentials are big and his desire to share the stoke is even greater.
1st - descents in Pakistan, Iceland, and Alaska.
1st place 2005 and 2007 Montana Snowkite Rodeo.
2-time Winner, Bear Mountain Mogul Championships.
Finalist North American Extreme Championships (on teles against alpine skiers).
U.S. Telemark Team alumni.
2nd place Telemark World Jumping Championships.
2nd place Telemark World Powder 8 Championships.
Appeared in 5 ski videos.
Multiple articles and full page photos in Men's Journal, Skiing, Powder, NY Times, Backcountry, and more.
U.S. Telemark speed record holder (170 kph)
Regina Ciarfella - Women's Clinic Director

First off, we challenge anyone to keep pace with Regina. On the mountain, or off. Go ahead and try. At a minimum, you will succeed in having the best damn time of your life.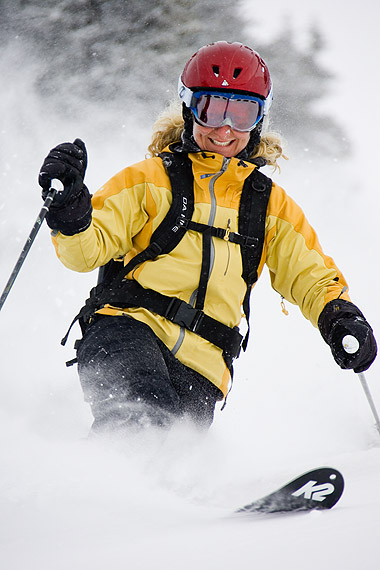 Powder Magazine called her, "a telemark instructor who danced down the mountain in a form of sensuous freeheel tango. With perfect white teeth, tan face, and athleticism oozing from every pore, she could be a poster-child for mountain-high sexuality." As a member of K2 Telemark's Women's Alliance Team, Regina helps create the women's line of skis through extensive testing (read: lots of skiing in all kinds of crappy conditions). When asked why she telemark skis rather than snowboard or alpine ski; Regina's response comes straight from her soul - "Power, grace, freedom, and dancing. I love dancing." Her other activities include: Painter, Art Gallery/Café owner, snowkiting, kitesurfing, windsurfing, gardening, mountain biking, and hiking along with her dogs and horses.
Eric Cannon - Director of Advanced Telemark Instruction

Medalist at Bud Light Slopestyle Championships (while using telemark skis in this alpine ski-only event)
National Junior Telemark Ski Champion
Multiple top ten finishes in Slope Style competitions
Telemark skier since 17 years old
Ski model for resorts and manufacturers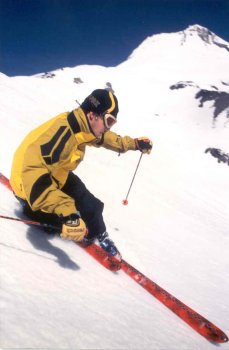 Eric is one of the BEST ALL-AROUND TELEMARK SKIERS in the world. BAR NONE. He skis full carving telemark turns at 30 miles an hour - FAKIE!! Terrain park - backs, fronts, rails, etc. On the steeps you won't see Eric doing too many hop turns, just full on carved turns. As an instructor he gets guest comments like "the best instructor I've ever had", "learned more in one day then in 10 years of telemark skiing". Individually he pursues the excitement of competition, the satisfaction of being the first to nail a specific tele trick, the joy of continuous face shots in powder, and promoting his good will in helping others rip. Don't let his resume impress you. Meet him in person and you will realize his lack of ego makes him easily approachable.
Hunter Lowery - Guru of the Active Lifestyle

Hunter provides a very solid, all-around foundation for SnowAffair. His ability to perform at the highest level in a multitude of action sports translates into an incredible ability to assess body mechanics while teaching.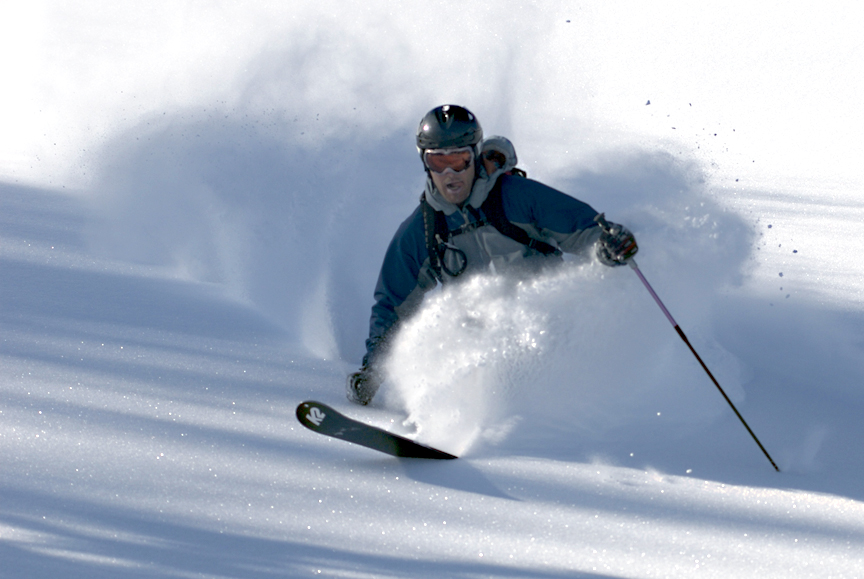 Hunter also has the unique combination of a guy that oozes testosterone and at the same time a really big heart. Not only do you want him on your team, you want to hang out with him. He has been called the Laird Hamilton of the mountains. Super chill core dude. However, don't let his sweet demeanor fool you. I have seen him in more than one hairy situation: riding big winter waves on the coast of Oregon in November, kite surfing in 35 knots of wind in Baja, skiing steep avalanche terrain, and not once could I detect a hint of fear. A calm and reassuring man with Buddha-like patience. Hunter is perfect for helping you build confidence in skiing any slopes and at any level.
Alan Moats - World renowned skier and instructor

U.S. Telemark Team 1994 - 1998
World Cup, World Championships Competitor
Professional Ski Instructor Level III Certified
Alpine and Telemark Race Coach
Part owner Mad River Glen
U.S. Masters Mountain Bike Champion
Alan has taught telemark skiing as long as any one on the planet. Oh, and does he rip. Very steep, gnarly runs are his backyard. Expert telemark skiers come to learn from the Master as he delivers his inspirational message. With such a background you would think that his genes are precious. His youngest daughter rips Mad River on telemark skis while his older daughter, Charlotte, wins major freeskiing championships.
Charlie "Circus Boy" Cannon - jib master and video star

Featured skier in a multitude of telemark videos.
Vegetate Skier Slopestyle - 5th place overall. (on teles at this alpine only event)
Niseko Skier Big Air (Japan) - 1st place overall. (on teles at this alpine only event)
Jackson Hole Telemark Freeskiing Comp - 10th place
Kayaking, Rock Climbing, Juggling, Unicycling, Kung Fu, Gymnastics, playing guitar/harmonica/piano, slack rope walking, and Qi Gong meditation. Other non-intense activities include: wake boarding, windsurfing, skateboarding, backpacking, playing lacrosse/soccer, and loving my family and dog.
Then-this upcoming summer I'll be filming/shooting in Valle Nevado, Chile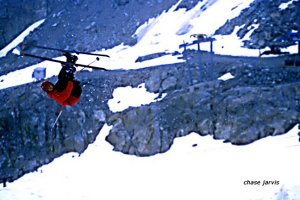 "My philosophy is that we humans are in a constant search for the knowing of oneself. Thus - I feel that the greatest way to knowing one's self is by pushing oneself to the limit in all arenas of the athlete. You then know what you feel, what you think, how you act, and how you live; all without miscommunication. You are YOU." A young telemark skier who wants to share his forward thinking and his upside down skiing with YOU.
Leighton White - professional telemark skier and photographer

Alpine skier - 40 years
Telemark skier - 20 years
Average ski days/yr. - 100
"Sponsors" - K2, Garmont, Voile
Video appearances - Beyond the Groomed, Freedom of the Heels, Big Mountain/Little Skier, Voile Equipment
Print Media - Cover - National Geographic Adventure, Sunset Magazine
Numerous trips to AK Heli Skiing
Photographer on TGR film shoot in AK/BC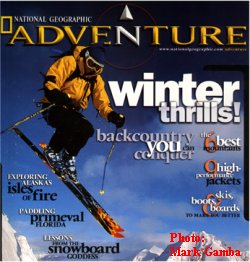 He is the author of the K2 Telemark slogan "If It Were Easy It Would Be Called Snowboarding". He has been on the cover of a couple of major magazines. He has been teaching telemark ski clinics in the backcountry of British Columbia for years. He rips the bumps. He is; the man.